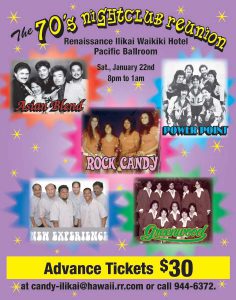 Ah…the roots of the founding story which makes the event a success…Back at the very first dance, the bands that performed (Asian Blend, Rock Candy, Power Point, New Experience, and Greenwood) were united for a single blowout party bash. Immediate friends and family of the bands were invited, many were in attendance. At that time, the event was held at the Ilikai where Rob Kimura (the Mastermind of 70s Nightclub Reunion) got together with Candy Au (Banquet Hall Queen) to form the shindig. Since not all of the Ilikai Ballroom had been filled, the general public had been invited.
HEY!! don't get confused now…pay attention, this poster is from 10 years ago! Read more about the 70s Nightclub Reunion "Getting the Band Back Together".
The Ilikai had changed ownership about 10 years ago, which meant staffing would too. Candy moved over to the Ala Moana Hotel and through her efforts had been instrumental in coordinating the bash. Unlike the Ilikai, the Hibiscus Grand Ballroom and Garden Lanai rooms combined at the Ala Moana were not as large as the Ilikai. But still, we have that ever growing group of 70s retro peepage.
What does that mean? Well, and frankly, there will not be enough seating for all.
After the bands secure seats for their immediate families and friends, the remaining seats go out to the general public. It's the formula that had always been in place and we're grateful and truly appreciate EVERYONE. It is our intent to sell out completely with SRO (Standing Room Only). Please purchase your ticket and be a part of this huge dance event!