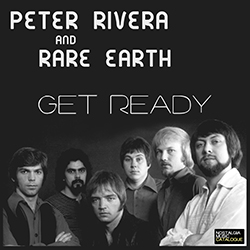 Peter Rivera is the original voice and beat of Rare Earth, a very hip band of musicians that played an incredible mix of music comprised of rock, funk, soul, and psychedelic fusion.
Rivera (stage name) aka Peter Hoorelbeke was born and raised in Detroit, Michigan. At the age of eleven years old, Pete received his first drum set and practiced to the likes of Glen Miller, Sammy Kaye, and Stan Kenton. The first rock 'n' roll records that he purchased were "Tutti Frutti" by Little Richard and "Blue Suede Shoes" by Carl Perkins. It was the charisma of Elvis Presley that inspired Pete into becoming a performer, but it was the Detroit music scene inspired by R&B and Soul music that would define Pete's future.
The Sunliners were formed in 1960. The band had been playing "Get Ready" for three years on the club circuit. The Sunliners became a smash in Detroit, but also performed at the hippest nightclubs in New York City. At the height of the bands success … Motown took notice and signed them to a recording contract. The Sunliners changed their name to Rare Earth and their song "Get Ready" (The albums long version was reduced for radio airplay) caught fire at top black radio stations in Chicago, Philadelphia, Baltimore, and Washington D.C. as a single. After gaining notoriety on the R&B charts, "Get Ready" began to climb on the pop charts, finally reaching #4 on Billboard's Hot 100.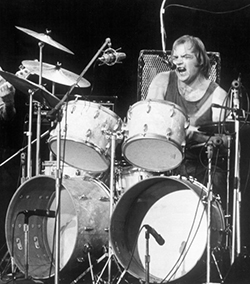 Peter Rivera and Rare Earth became superstars and a part of the Motown legacy.  Rivera became the undisputed leader of Rare Earth, the only white band to score hits with the Berry Gordy, Jr. Motown Record label … "Get Ready," "I'm Losing You," "Born To Wander," "Hey Big Brother," and "I Just Want To Celebrate" were all Top 40 hits. The albums … Get Ready (1969), and the live double-album set Rare Earth In Concert (1971) won double platinum. Ecology (1970) and One World (1971) achieved single platinum, Willie Remembers (1972) and Ma (composed and produced by Norman Whitfield -1973) went gold.
In 1974, Rare Earth was the opening act for the California Jam …sharing the stage with Earth Wind & Fire, The Eagles, Seals & Crofts, Black Oak Arkansas, Black Sabbath, Deep Purple, and Emerson, Lake and Palmer.
Peter Rivera and drummers of his sort are an enigma, and part of a very elite group. Rivera plays drums and sings lead vocals at the same time. But Rivera is an exceptional drummer and is also an extraordinary and soulful lead singer as well as a songwriter.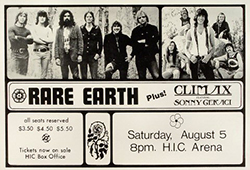 In 1992, Peter Rivera formed the Classic Rock All Stars. The core lineup became Jerry Corbetta (Sugarloaf), Mike Pinera (Blues Image, Iron Butterfly & Alice Cooper), and Dennis Noda (Cannibal & the Headhunters). The band became very successful and toured extensively until Dennis Noda's death, and the diagnosis of Alzheimer's to Jerry Corbetta.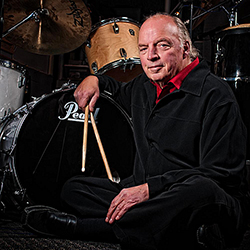 Although Rare Earth was at the height of its success between 1970 to the mid 70s, a resurgence of their material has been spotlighted on countless advertisements, television shows, movie trailers and motion pictures. "I Just Want To Celebrate" was featured on advertising campaigns for AT&T and the Ford Motor Company, and the tune was highlighted in the motion pictures … Three Kings, Tropic Thunder, A Knights Tale, and most recently at the end of The Expendables 2 … to name just a few. "I Just Want To Celebrate" was penned by renowned songwriters Dino Fekaris and Nick Zesses. The song was released on the One World album in 1971 and was a #7 hit on the Top 40 charts.
Rare Earth's version of "Get Ready" has also been widely exhibited on advertisements, TV, and film. The song was written by another Motown legend Smoky Robinson, and became huge hits for both The Temptations (#29 hit in 1966) and Rare Earth (#4 hit in 1970). Rare Earth's 21:32 minute version on the album Get Ready gained cult status, somewhat like the album version of Iron Butterfly's mesmerizing psychedelic rock masterpiece, "In-A- Gadda-Da-Vida."
Rare Earth has sold over 30-million records worldwide and was inducted into The Michigan Rock and Roll Legends Hall of Fame.