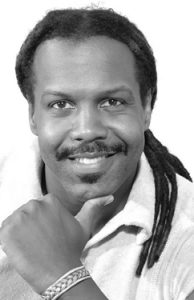 Brent Carter is among the most criminally unsung singers of soul – a man who has been the lead singer for both R&B super bands Tower of Power AND the Average White Band, PLUS sang the Maurice White vocal parts for Maurice Hines' short-lived Earth Wind & Fire on Broadway musical, "Hot Feet."  From the time he was a child – Brent has worked in national traveling theater shows, sung radio commercial jingles and was a featured background singer for Regina Belle and BeBe & CeCe Winans. Now, the New York native is embarking upon his first foray into recording/performing as a solo artist. That journey begins with his clever, catchy and flirtatious debut single, "So Smooth."
"Everything I've done up to now has been for other people," Brent confirms. "I decided to give something a shot just for me. I went in the studio, wrote the song and co-produced the session with a guy out of Brooklyn named Scott Yahney. There's stuff out now like what Daft Punk did with Nile Rodgers that mixes the new and old school together. So I wrote about a dude my age hollering at a young girl. Now, personally, I'm not a guy into young girls but a lot of young guys don't know how to act or talk to women. 'So Smooth' is about an older guy meeting a girl that thinks she's gonna run game but winds up falling in love. He apologizes singing, 'Sorry, I didn't mean to be so smooth.' I threw a lil' Rakim in at the beginning in homage to me coming up in New York when Hip Hop was young, plus a couple of old sayings for people my age. It's all really tongue in cheek."
Brent received his music and stage talents honest. His father Frenchie Carter (a crooner with a tenor to baritone range in the style of like Nat King Cole and Johnny Mathis) was a short-lived member of Frankie Lymon & The Teenagers. His mother, Mary Carter, was an actress/model who also sang. His great aunt, Evelyn Roderick, was a Julliard-trained pianist who toured with Fats Waller in the `30s and later directed choirs in Connecticut including famed Wings Over Jordan.
"Growing up, I thought everybody could sing," Brent shares. "When my sister Dawn and I were in the car, Daddy would turn up the radio on our favorite songs and give all four of us (w/ Mom) our specific harmony parts. It was all family fun but that training helped me get jingles. I could catch on to harmony parts fast." Brent sang on radio spots for Hardy's and Campbell's, and was a featured kid's voice on ABC-TV's "Multiplication Rock" for the segment "Four-Legged Zoo."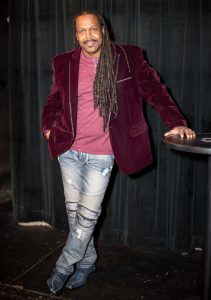 Brent's earliest influences came from the rainbow of crossover music wafting over Top 40 radio in the late `60s/early 70s: Motown's Stevie Wonder ("If You Really Love Me") and the Jackson 5 ("I Want You Back"), the Beatles and Aretha. He learned a lot firsthand from his uncle Ed Zant (a member of the Atlantic Records soul vocal quartet Ace Spectrum) who let him quietly observe recording sessions. His first steady successes came following in his mother's footsteps doing modeling and theater. At 12, he appeared on Broadway as a slave boy in "Shenandoah," once singing "Freedom" from the play before a TV audience of 72 million during a Macy's Thanksgiving Day Parade. "Once I'd been on Broadway, I knew I wanted to be an entertainer," Brent states. He then began attending his mother's alma mater, Performing arts High School in New York, studying theater.
While studying social work at Suny State College NY at New Paltz, singing reentered his life when he joined his Alpha Phi Alpha frat brother Daryl Ware's then-new ensemble Voices of Unity for which he was a featured lead vocalist.
After college, he worked at Covenant House doing social work but continued to network in the music biz. He landed at Charles Huggins' Hush Productions where he recorded and toured with in-house artists B Fats, Milira and Aleese Simmons.. A recommendation from singer/bassist Chris Walker led to road work with Regina Belle which led to a chance encounter with gospel star BeBe Winans in an airport.
Brent made the leap into fronting bands when he heard that Oakland Soul stalwarts Tower of Power needed a new singer. Though he'd never led a band before, he prepared for the audition like he was preparing for the lead in a play. He studied old videos of Sammy Davis, Jr. and Otis Redding as well as old favorites Michael Jackson and Eddie Levert (of the O'Jays). He nailed the gig, joining T.O.P. in April 1994 following in the footsteps of lead singers Rufus Miller, Rick Stevens, Lenny Williams, Hubert Tubbs and Ellis Hall. He stayed 7 years and recorded 3 CDs: Souled Out (Epic – 1995), Rhythm & Business (Epic – 1997), then Soul Vaccination: TOP Live (550 Music – 1999). He even co-wrote one song, "This Type of Funk," but T.O.P. didn't cut it until after he left in 2001.
While Brent had to bone up to work with T.O.P., segueing into Scottish soul survivors the Average White Band (AWB) was a piece of cake – he grew up loving their hits. AWB toured often with T.O.P. so Brent became fast friends, even riding on their tour bus. On the side, Morris Pleasure, AWB sax man Freddy V and Brent were in the group Watersign. When AWB singer Klyde Jones got a call to work with Hall & Oates, Freddy and founder Alan Gorrie brought Brent in as a sub. He's been with AWB ever since, putting his own spin on songs made famous by original member Hamish Stuart plus new material tailored for him.
In between T.O.P. and AWB into the present, Brent has continued to do Broadway and touring musical productions including the gospel plays "Who Can You Trust" and "Forbidden Fruit" produced by Mike Matthews (a precursor to Tyler Perry). He's worked alongside stars such as singers Ralph Tresvant (New Edition), Mark Middleton (BLACKstreet), as well as actors Marla Gibbs, Todd Bridges and the late James Avery.
Then there was the Broadway jukebox musical "Hot Feet" created by Maurice Hines and Maurice White that brought the music of Earth Wind & Fire to the Great White Way. Brent landed a lead offstage vocal role that had him to singing 14 EWF classic for the onstage dancers including "September," "Boogie Wonderland," "After the Love is Gone," "Serpentine Fire' and "Shining Star." It played a month in Washington, D.C. then three months on Broadway. 'My father brought my stepmother, Wyetta Turner (a dance sensation who was in the musical "Hair" and the movie version of "Jesus Christ Superstar") to opening our night. Everyone from Debbie Allen (whose daughter Vivian Nixon was starring in "Hot Feet") to the late great Geoffrey Holder was gushing over her. I was so happy my father got a chance to see me on Broadway…and show off his wife. He passed away three years ago and she died a year after him…"
Today, Brent is focusing on polishing his debut CD to perfection, working with a number of new and veteran producer/songwriters including Mo Pleasure. "I'm a ballad singer so I'll have a lot of ballads and mid-tempos," he shares. "I'm not trying to sound like Little Anthony & The Imperials from 40 years ago but there's also no sense in me trying to sound like Chris Brown, Miguel or Usher either. I have my own slot. I may not have 800 hits in me…but I've got 'So Smooth' for a strong start and a few more in me as well."