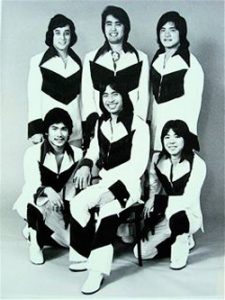 Asian Blend, Hawaii's longest running contemporary dance band is currently in its 47th year of performing. Founded in the summer of 1972 when they were University of Hawaii students, Asian Blend began performing for UH dances and eventually for local weddings and parties. In 1974, current bass player / lead vocalist Jay Henry Molina joined the band and his smooth versatile voice quickly led the band to enter the Waikiki nightclub circuit.
This versatile high energy dance band- rated as one of the finest in Hawaii has performed throughout the Waikiki nightclub circuit from 1974 until 1994. Past venues include Spencecliff's Hawaiian Hut, Duke Kahanamoku's, the Tiki broiler, Beef 'n Grog, Cock's Roost, Waikiki Beachcomber's "Foxey Lady Too!, Sheraton's "Esprit nightclub, the Black Orchid, Nick's Fishmarket, Ala Moana hotel's "Nicholas Nicholas", Hyatt Regency's "Trapper's," and the Hilton Hawaiian Village "Garden Bar."
Asian Blend's repertoire covers a wide spectrum of music. From contemporary 'top 40' dance to 50's, 60's, 70's, classic rock, reggae, light jazz, rhythm 'n blues, and romantic ballads….you request it, they will play it. Lead singer Pamela Petersen has fronted the band for the past 15 years along with lead guitarist/lead vocalist Dave Ray Toma. The Choy brothers; Dave and Del "Jr." (saxophone and trumpet) along with drummer Garin Poliahu, keyboardist Mitch Hazama ( founder and leader), versatile synth player Glen Goto, and bass player/lead vocalist Jay Henry Molina round out the current unit.