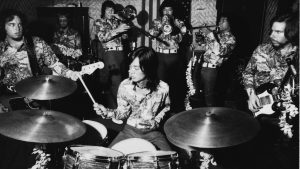 The Deltones – In the year 1966 the Deltones were formed. Ron & Mike Lundy met up with Danny Nakamoto in Kawananakoa Middle School and formed the band. Shortly after, Mike Fukunami joined by being the musical son of a co-worker that Ron & Mike's mom worked with.  Within this period, Herb Ono (owner & main engineer at the international recording studio "Sounds of Hawaii") offered and sponsored them to put out a 45 RPM (7″vinyl record) of 2 of Mike Lundy's originals. Also at that time Herb put another one of Mike's originals on the B' side of another popular band at that time "Linda Green & the Tempo's". Then as time passed while still in Kawananakoa they added a keyboard player Vincent Chang to the band.
Being in their early teens they were unable to legally play in Night Clubs.  They then hooked up with an agent (Bob Mitchell) who booked venues on the military bases on Oahu (where the state liquor commission had no jurisdiction). During those years, whenever big name artists would come to Hawaii to do concerts, they also would perform on the military bases.  The Deltones would be the opening act.  Opening for such names as O.C. Smith ("God didn't make little green apples"), the 5th Dimension ("Beautiful Balloon"), Sam the Sham & the Pharaoh's ("Wolly Bully"), Della Reese-Jass singer & actress as well as the Byrds ("Tamborine Man").
Having been very successful at the time, their parents registered the Deltones as a business partnership, with parents as the major partners & the 4 original band members as minor partners. They had medical coverage, a checking account, bought their own van and musical equipment.
As musical times changed, 2 horn players (Billy Hallum & Clark Silva) expanded the band to a 7 piece. Performing in many venues in Waikiki as well as touring Hotels, Resorts & Clubs throughout the neighbor islands. The Deltones lasted well into the late 70's. eventually going their separate ways due to growing up, getting married and starting families…it was a good run…and a very creative time for all music!